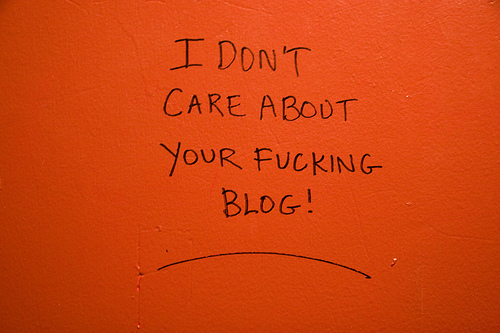 photo by Lindsay Beyerstein
I understand that I haven't been writing much on this blog. I've been commenting here and there, and posting some over at [Post] Artblog.net, but mostly I've been reactive, not actually active. You poke me, I poke back, but otherwise, I just stay settled down in the mud. I've been working sporadically on the follow-up to my Imaginary Gallery and I really should be writing up my reviews of a few shows I've seen. But the going is slow.
Why is this? Every day I go down my list of art-related blogs and I skim the new postings but what I keep hearing in my head, tolling like a bell, is just this: I don't care. I don't care. I don't care.
I don't know why I don't care right now. I simply don't. Maybe that's what separates the professionals from the amateurs -- the professionals give a crap on deadline. Certainly the blogs I've been checking in with have continued churning out pointless posts at professional clip. Blah blah blah Deitch, blah blah blah Skin Fruit, blah blah blah "anonymous comments on the blog lately have not been about building a comment community". Lately? Seriously? Is this 1998 that you just figured this out? More late-breaking news: The obvious is still obvious!
I don't even have the heart to list recent stupidities on the art blogs. None of them have been all that egregious anyway. Minor stupidities hardly count. The good writers are backing off -- Franklin quit and Bunny's been quiet, at least on strictly art-related topics -- and the bad ones, well, they just keep on truckin', don't they? It's like a Yeats poem, but less exciting. Not with a bang, but with a whimper, right?
I'm trying to care. Really I am. It's just not working.