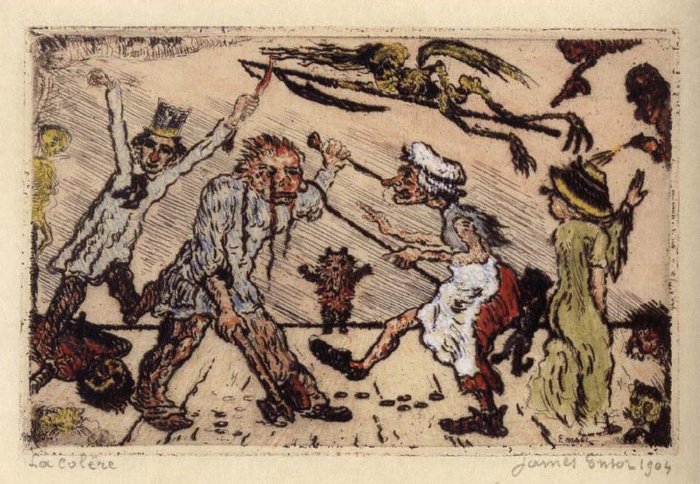 James Ensor, La Colere, 1904, etching from a copper plate, with hand coloring, on ivory wove paper, 93 x 144 mm (image)
I'm instituting a new invitation policy. Please read before inviting me to your show.
I've discussed openly before how, when I review a show of someone I know or have met, or a show I was invited to, I tend to be nicer than I ordinarily would. Of course it's easier to say mean things about someone you've never met than about someone you've shaken hands with.
But over the years I've learned something: Even when I try to be nice I make people angry. Even when I try to be less critical than I would be usually, the people I write about get mad at me.
There are two ways I can approach this, then. First, I can stop reviewing any shows by people I know. Or, second, I can institute this policy. Since I write art reviews -- it's what I do -- I won't be stopping.
If I'm going to get yelled at regardless, I might as well be totally honest. So this is my new policy: If you invite me to your show, or invite me to look at your art, I am going to be brutally honest. This goes for anyone, whether they're friends, aquaintances, buddies, or dating my daughter. You have my one hundred percent iron-clad money back guarantee that you will not like what I have to say. You think you'll like it, but you won't.
If you still choose to invite me to your show, you've been warned.