I missed the blogpix (March 5 through March 28, 2009) opening but managed to make it to Denise Bibro the very next day so I could be greeted by Olympia Lambert saying, "You're twelve hours late or twenty-four hours early!" It seems I not only missed the opening, I also was going to miss the Blogger Panel Discussion the next day. Such a shame, too, because really there's nothing more fun than a panel discussion, especially involving people whose job description involves zero contact with other humans. Oly mentioned that, among others, Bill Gusky was going to be there, and I'll admit missing Bill is a shame, because he's a funny, interesting, all-around good guy. I mean, I don't know him that well, for all I know he kicks puppies and drowns kittens for fun, but he's a good guy to hang out with for a few minutes and his Facebook posts are entertaining. And, really, what else matters?
Oly then happily took me through blogpix. I could discuss the work openly with her because she's not the curator for the show; Oly is more of the meta-curator for the show. As she explained, she chose the art bloggers who'd be the curators, and she gave them a mission statement: Choose artists who don't have gallery representation, or don't have much presence in Chelsea, anyway, or who you feel are underappreciated or overlooked in some way. Oly chose Roberta Fallon & Libby Rosof, the pair behind Artblog; veritable force of nature Joanne Mattera; and Hrag Vartanian, who I honestly had never heard of. (I should mention at this point that I've shown work with Roberta & Libby and Joanne, met them, and talked with them. Hrag -- no idea who he is.)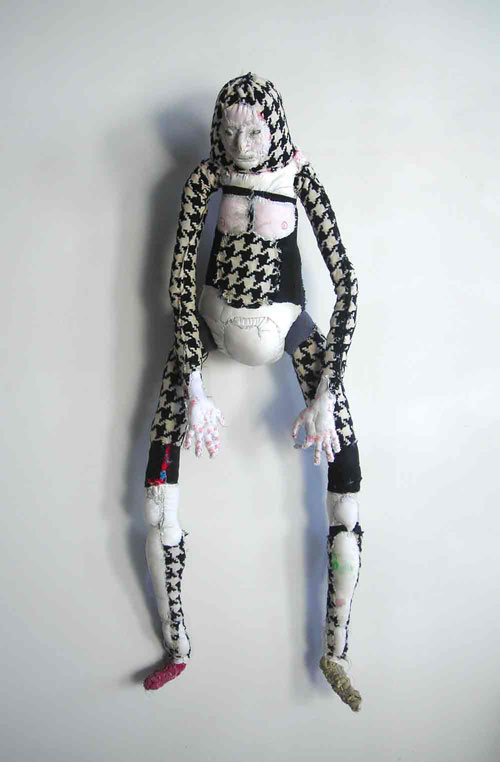 Christopher Davison, Black and White Sculpture, 2006
Entering the space Denise calls Platform -- a somewhat separate room from her main gallery -- we were immediately met by an ugly hanging critter by Fallon & Rosof's entry
Christopher Davison
. Its provocative, evocative title is
Black and White Sculpture
and it is unpleasant and dopey, a half-houndstooth half poorly sewed figure hanging from the ceiling like a morose monkey. I made immediate noises of distaste and Oly chided me saying, "We love our sad little monkey" or something to that effect. It is hideous and badly made. It is not deserving of her love.
Neither are the other Davison works in the show, all of which are not so much disturbing as they make me worry about the artist. He looks like he could use a little therapy, maybe a nice pet. Certainly not any more time with his pencils and gouache, through which he clearly wishes to infect us with unhappiness. His flat, unmercifully unskilled drawings are unrelieved by any bright spots of skill or compositional interest.
Julie Karabenick, Composition 71, 2007, acrylic on canvas, 28x28 inches
Almost directly across from those, though, are a couple of good-sized jazzy paintings by one of Joanne's picks,
Julie Karabenick
. Julie's working in a variation on Mondrian, expanding his strict vocabulary to include criss-crossing squares and angular loops, while also extending his palette beyond the primaries and secondaries. Julie's work is certainly energetic and Oly and I batted around some ideas of what they reminded us of before concluding that she was channeling a kind of Atari 2600 aesthetic. Her colors definitely come right off of early game cartridges and the big blocky pixels feel just like
Adventure
. I'd like her work better, I think, if it had more texture -- Mondrian's paintings are never wholly flat, but Julie's taped hers obsessively and painted so smoothly between the edges that the faintest extra thickness where the paint laps up against the tape shows up in sharp relief.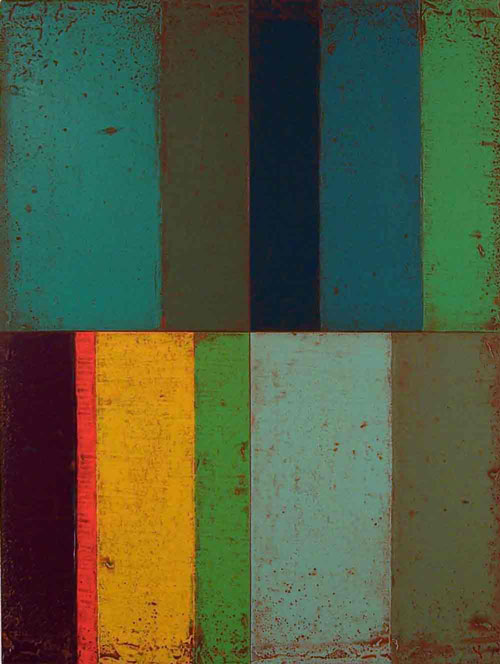 Steven Alexander, The Primrose Path, 2007, acrylic on canvas, 48x36 inches
From there it's easy to turn right and see the rough-hewn paintings of
Steven Alexander
. Oly said she thought at first they were encaustic, and indeed they have that dull waxy sheen you get from that medium, that feeling that you're seeing the pigments through some translucent glaze. But they're acrylics. I suggested that maybe Steven mixes his own acrylic paint using gel medium and raw pigments; he could use less pigment to get that encaustic-like texture. His surface is roughly prepared and very uneven; the result is to take what might be unexciting hard-edged abstraction and give it an earthy, flawed quality, like
Stephen Westfall
's work left out in the rain for a few months. Which would honestly improve it.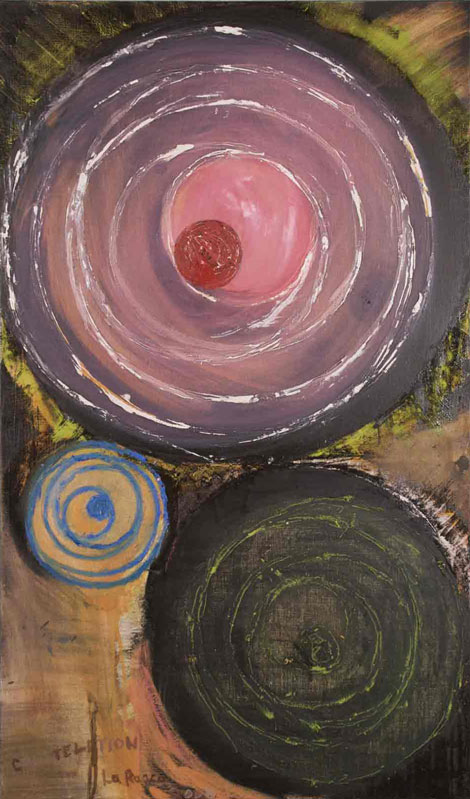 Ben La Rocco, Constellation, 2009
Next to Steven we found
Ben La Rocco
, Hrag's entrant in the show. I found Ben's work simply too crude. The paintings feel like studies of studies, like someone barely even made an effort at applying paint; almost no sense of color, almost no sense of style, but just enough of each to avoid being anti-color or -style. I felt immediately that Ben's work was just too clunky for me. Very uninspired in every category involved in arranging paint on a surface.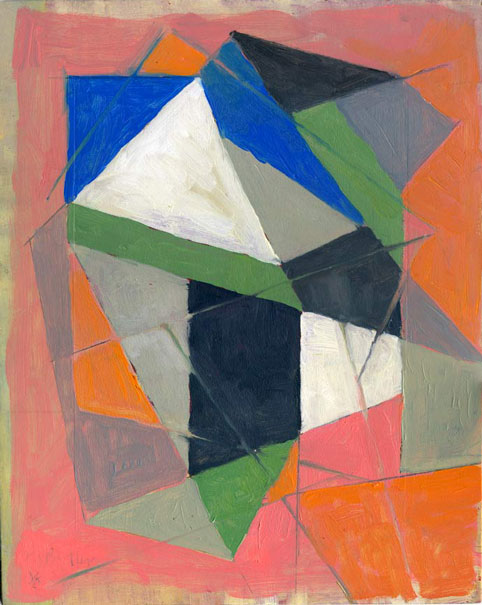 Sharon Butler, Siding 1, 2008, oil on wood panel, 12x9.75 inches
On the other side of Steven is Sharon Butler of -- as Oly and I said over each other as she introdcued me to the work --
Two Coats of Paint
. Hers is probably the most professional, serious, best work in the show. Somehow Sharon has painted a few small works here -- there are two on the Website and I think there were four, maybe five, in the gallery -- which look as if they were painted in the heyday of geometric abstraction in the 1940s. Her color scheme is almost the same as Morandi's, maybe a little more colorful in some cases. I found the effect kind of neat, but at the same time I had to wonder: Are these homage or pastiche? Are they sincere or ironic? Does Sharon come naturally to this style, or is she deliberately copying? As I looked at the paintings I found this cognitive dissonance eroding my faith in my appreciation of them.
I made a motion towards one of the panels, which looked as if a chunk had been taken out of it with a circular saw. "Don't touch that," Oly warned me, "it's alarmed."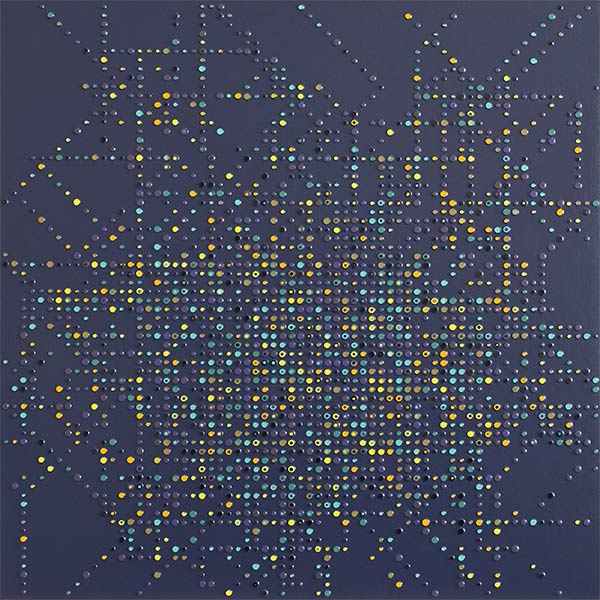 Reese Inman, Projection III, 2008, acrylic on wood panel, 30x30 inches
On the way out -- or on the way in, if you turned right at the ugly monkey -- are the last (or first) two works in the show, two pieces by
Reese Inman
; like Sharon, she was chosen by Joanne. From viewing distance Reese's works appear to be made up of dots of different size and color glued to a flat surface. The resulting grid is clearly reminiscent of a computer graphic. Move closer and you see, not dots glued to the surface, but what look like raised spots that may have been left after the surrounding surface was removed, as if by a router. The dots themselves have a certain color shift on top that looks more like layers that were sanded through than colors layered additively. The result is much less than the sum of its parts, though: For how much visual interest her labor-intensive techniques add, she might as well be gluing plastic dots down. Visually the two works are mildly interesting, with that added "How does she do that?" fillip; but ultimately interest flags due to the narrow color range and staid pattern. Go to Reese's site and you'll get a lovely explanation of how these relate to computer algorithms and musical experiments and so forth, all of which I'm sure is very exciting if you have Asperger's and are up past your bedtime, but which wrap up into extremely dull paintings.