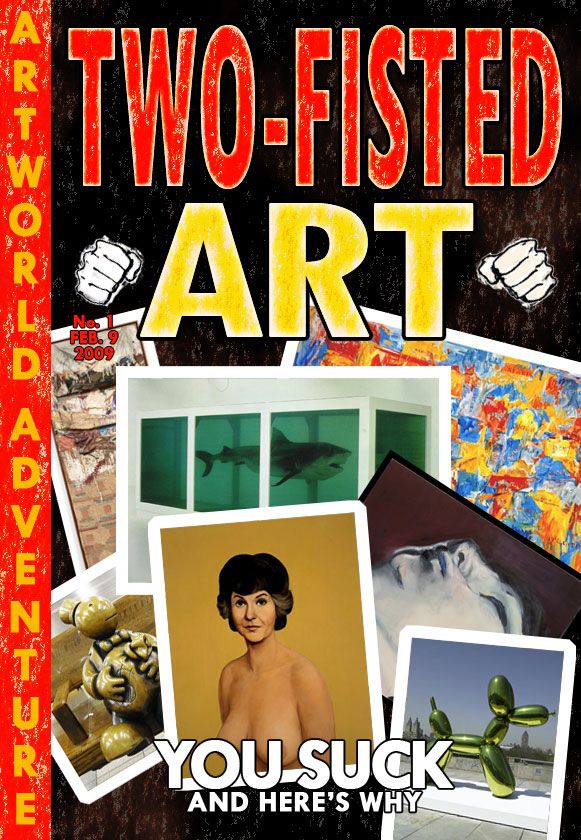 I'm going to lead off by demonstrating a great technique. I'm going to magically cast a glowing aura of erudite gravitas over my whole essay. I'll perform this amazing feat by quoting a few lines of one of the most popular poems in the English language. It's perfect for this kind of magic because, first of all, it's really dark and portentous and therefore really sincere and important; and second of all it's really short, so it doesn't tax anyone's brains too hard. Part of the magic of appearing erudite and grave involves not straining yourself too hard. (Strain too much and you just look constipated.) Thirdly, the poem is so incredibly well known you don't have to look too hard to find a copy.
Okay, so here comes the magic. Get ready for it.
The best lack all conviction, while the worst
Are full of passionate intensity.

from The Second Coming
by William Butler Yeats
See that? Isn't it wonderful? Now I look really serious and smart and can move on to the main part of my essay, which is to lay out who the worst are and to build up some passionate intensity in the best.
I have been too respectful.
This might seem a bit much for me to say. You might think I'm an amazingly disrespectful person with the things I've written on my blog and elsewhere. But you're not in my head. You don't know what I really think. And I often find myself trying to phrase things in a nicer way. I pull my punches. Sometimes I just avoid saying things -- even really obvious things -- because I'm too respectful.
I grew up lower middle class in New York City. My father was an auto mechanic and my friends were sons of firemen and construction workers. Roofers and carpenters. Janitors. People who worked with their hands. One thing I was taught growing up was the value of hard work because working hard was something the people around me knew about. They worked hard to get what they had. They respected work.
They also extended this ethic to others. When you met a successful businessman, you showed him respect, because to become successful, he must've worked very hard. The more successful he appeared, the more respectful you had to be.
What I've learned over the years, though, is that actual success, the appearance of success, and work are three separate items. You can have any one of them without the others.
When you walk into a hardware store, let's say, you can be reasonably sure, unless the store is new or going out of business as you stand there, that it's making enough money to continue. As my dad would say, it's makin' its nut: Selling enough merchandise to cover its expenses. You can look around on the shelves and not ask yourself, does someone buy all this crap? Because someone does. The store sells enough fertilizer and paintbrushes and screws and nails and whatever else to pay for its rent and employees and dusty stock of enameled cast iron cookware. If you meet the owner of the store, you show him some respect, because he's running a successful business.
The same is true of a dry cleaners, and a liquor store, and a Chinese take-out place. Because no one opens a 7-11 for the cachet, for the prestige, for the access to a higher class of people. These places all make their nut or they die.
Not all businesses are like that, though. There are businesses that people go into because it looks like fun or because it makes them feel better about themselves in some way. Businesses that come with a certain class, that allow one to rub elbows with better people than you find on the street. Movie studios. Restaurants. Antique shops. Art galleries.
If you approach the people who own and run these places the same way I was taught to, you can end up in trouble. Because you might walk into an art store and look around and think, "Who buys all this crap? Well, someone must, because the store's still here and the rents are really high in this neighborhood." And you might be respectful to the owner of that gallery because you think they're running a good business.
Are they really? You have no way of knowing. For all you know, the gallery owner sells heroin in the South Bronx to pay for their art store. They could have a well-paying day job, or a trust fund, or a rich spouse. There's no reason at all to think, when you want to know who buys all this crap, there's no reason to think that anyone does. It could all really be exactly what it appears to be: Worthless junk.
Of course at a certain point the appearance of success can become success of a sort. People continued to invest in Bernard Madoff's enterprises, not because he actually had a good business, but because he appeared to have a good business. People threw good money after imaginary money. Likewise, someone might buy a Jeff Koons sculpture because Jeff Koons is a successful artist. Never mind if his reputation is all hot air: If enough people buy his junk because he appears successful then he becomes successful.
Alas, I was brought up to be respectful to people who appeared to be successful. I'd probably have been respectful to Charles Ponzi, Jack Abramoff, or Bernard Madoff. If I met him, I'd probably smile and shake George W. Bush's hand. Because it's hard to be disrespectful to people, and I was brought up to be polite and respectful towards successful men. I was never really taught to question that success.
Gradually I've learned it's a bad idea to respect those who don't deserve it. They won't respect you back and you'll look like an idiot. They'll use you for what they can and they'll treat you like crap otherwise, because they don't need your respect. They didn't earn it and they don't want it. They can drop you like a used Kleenex because their business isn't real. It's trickery. It's fake. It is, in fact, bullshit.
Worse, if you appear as if you might even slightly threaten their bullshit, if you perhaps suggest they face the emptiness and worthlessness of their endeavor, then they really won't like you. And if you continue to show them respect after that, well, then you'll just look like a lickspittle.
I don't want to look like a lickspittle. I don't want to toady. I don't want to tie myself in knots trying not to say the obvious thing, trying to be polite, trying to maintain a veneer of civility in the face of gross stupidity, cupidity, and egoism. I don't want to be nice any more. As the great philosopher James Woods once said, "There's only one thing you get from eating a bowl of shit, and that's a bigger bowl of it the second time around."
I think I've eaten the biggest bowl of shit I'm going to.
My plan is not to attack people for no reason. I have no intentions of being entirely negative here. I have no desire to expressly go looking for people I can pick on.
However, my plan is to stop being nice to people who don't deserve it. I'm going to praise those who earn praise and denigrate those who earn denigration. I'm not going to sit quietly while stupidity reigns. I'm going to renew my commitment to total and complete honesty. I'm going to strive to write down the truth as I see it, and I'm going to strive to see things truly.
This is going to make people angry. This is going to, at some point, make you angry. Too bad. For everyone who thinks that they're allowed to wave their ignorant opinions and unlettered ideas around in public without being called on their bullshit, I offer this quick course in logic: Reasonable people can disagree. You disagree with me. That doesn't mean you're reasonable.