I wasn't in the Museum of Modern Art to see Marlene Dumas' show there. I was there, along with apparently half of everyone in New York City, to see the Van Gogh show on its second-to-last day. While I was waiting for my Van Gogh ticket time to roll around, I wandered through the building, starting with Marlene. Why not? I'd expected to really dislike it. I've seen her work online and it looks like something I'd despise. Jerry Saltz said it was dreary.
The first thing I thought of at the show was Jasper Johns. The work reminds me strongly of Johns, particularly the recent Gray. One thing Marlene has in common with Jasper is their touch: Marlene has a lovely painterly brushstroke at times, the kind of gestural calligraphy that cries out "I'm a serious painter!" It's the kind of thing that makes me realize why some painters are lauded in excess of their gifts -- if you don't know anything else about painting, if your eye is completely blind to real quality, this kind of brushstroke can appear to be genius.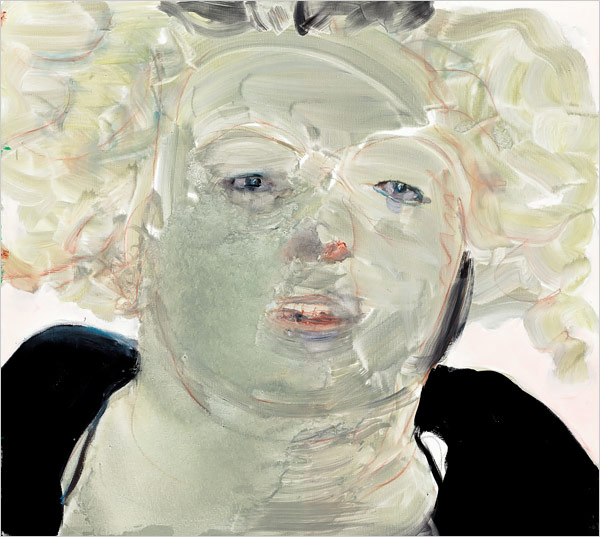 Marlene Dumas, Self Portrait at Noon, 2008, oil on canvas
Another thing Marlene has in common with our old pal Jasper is contempt for other people. It radiates off of everything they do, a disapproving frown hanging over all their work. However, Jasper's disdain results in paintings that have little or nothing to do with humans at all -- no relation to their concerns, feelings, or thoughts. In fact I feel his paintings float out in this intellectual vacuum with crystallized vapors of composition and color theory hanging around them in the void.
Marlene's contempt instead seems to have made her very angry. She seems determined to paint the ugliness of people, whether dead or alive, young or old. Her anger even affects her colors: I got the feeling that she looked at the beauty and subtlety of pure, unmixed pigments and thought, "I can't paint the horror and agony of human existence with these. I must make them as unpleasant as possible!" That's how these works are like Jasper's Gray show: Every color has been dragged down towards the low end of the chroma scale. They've all been pounded flat and lifeless, the better to portray the existential anguish of being human.
In this, Marlene is lucky: In the current art climate, ugliness equals honesty. Because her paintings are unabashedly nasty and unpleasant -- even images of babies and pregnant women, and really how much must you hate people to make even them grusesome? -- her work can be freely embraced as being honest, expressive, dripping with meaning, drenched in content, and, as she's female, larded with commentary on the state of bourgeois male-dominated society.
Sadly, this all appears to me to be a pose. If it's not a pose, then it's pathological: Marlene needs Prozac. And if she's not depressed or faking it, then I'd have to say maybe she's just not that good a painter. Maybe this is a case of someone making ugly work because it's the best they can manage. The online verbiage actually uses the phrase "extraordinary technical quality" which is either hilarious or very sad depending on how you look at it; either our civilization's declined so precipitously no one knows what quality looks like any more or the verbiage writer went batshit crazy trying to make Marlene sound fantastic. There isn't even the hint that Marlene can draw very well.
But there is that touch, that brushstroke. It's nice. When it's working for her, it can be quite evocative, elevating yet another painting of a dead distorted person into something, while not exactly beautiful, at least approaching bearable. When the touch is absent, however, the work melts into a distasteful morass of bile.