You've heard of Chris Ofili. He had his own artworld controversy a few years back -- not as big as the Mapplethorpe Affair or the Serrano Flap, but big enough. He's the guy who used elephant dung and porn in a painting he titled The Holy Virgin Mary, prompting Rudy Giuliani (who had not yet been canonized as the patron saint of Ground Zero) to make an idiot out of himself even more than usual. You remember.
Honestly, that was not why I put Chris' latest show on my list of openings for last night. Neither was it my affection for David Zwirner. And it wasn't my innate respect for anyone named Chris. No; quite simply, it was that, while browsing through the list of openings at Chelsea Art Galleries, the tiny little digital image next to the show caught my eye.
Aside from that, I was totally prepared to not give a crap about the show. I was expecting -- not being familiar at all with Chris Ofili or his background -- to see some Afrocentric exhibition, all Black is Beautiful and anti-European and so on and so forth, all that stuff we expect the culturati to embrace in these enlightened times. You know, like Kara Walker.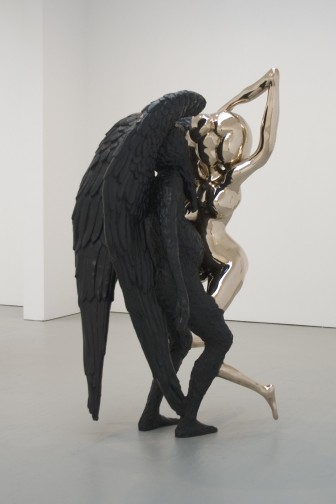 Chris Ofili, Annunciation, 2006, bronze, 87 x 39 x 45 inches
Instead I walked in and began to walk around
Annunciation
, where a curvy polished bronze polymorphous woman is having sex with -- literally merging with -- a dark bearded potbellied rough-surfaced bearded man. And partway around I found I had goosebumps.
There was something here.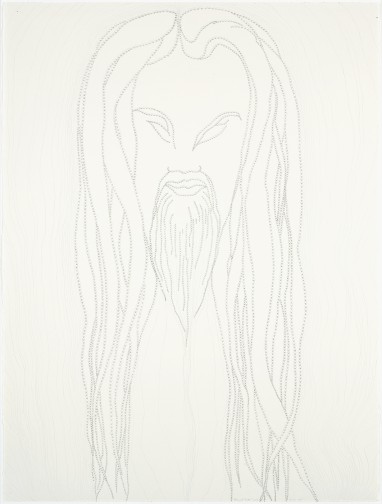 Chris Ofili, Belmont Guru, 2006, graphite on paper, 29.92 x 22.56 inches
I moved over to stand in front of
Belmont Guru
and I thought, "Am I crazy, or is this guy a real artist?" A couple more pieces in and I wanted to run around the crowded room yelling "Oh my God, it's a
REAL ARTIST!
"
Because Chris Ofili's work is AWESOME.
And the show goes on forever. I lost count of the rooms, but the David Zwirner Gallery just keeps on keeping on, room after room, small ones, big ones, and each one containing marvels. More bronze statues, more drawings, pencil, ink -- then another room of monumental paintings, then a tiny room of incredibly delicate pen and ink...it just never ends.
Part of me didn't want it to end. I wanted to see more drawings, more paintings, more work that resonated with me. I stopped next to Stephanie and as we both stood there looking at one painting I showed her my goosebumps. "Good," she said, "You've made a connection!"
And I had. The drawings really reminded me of...of my own drawings. And my drawings often remind people of....
P.J. O'Rourke once wrote something wryly amusing about Jesse Jackson and his use of rhetoric. He wrote that the foremost critic of Western Civilization is also the last practitioner of one of its highest arts. Something similar could be said for Chris Ofili, although he's no critic: For all his African influences, Ofili is a Modernist through and through.
I only just finished Patrick O'Brian's dense, riveting biography of Picasso, which, combined with following along on Dr. Enrique Mallen's On-line Picasso Project, put me in the perfect position to realize that Chris' paintings are just Cubism; that Chris is simply plowing the same fields as those crusty old white European males we're not supposed to revere any more. Chris is like Matisse with an African palette instead of a Mediterranean one; dark blues and olive greens instead of bright reds and primary yellows.
In a way it felt unfair. Jerry Saltz once warned me against being too Modernist and here was unabashed Modernism, and not just in small doses: Here was room after room of Modernism, in the middle of Chelsea at the start of the 21st century! Is he allowed to do this because he's Afro-Caribbean -- even though he was born in Manchester and attended the Royal College of Art?
But you know what? My feeling of unfairness evaporated almost as soon as it arrived, because the work is just that damned good. It may be old-fashioned, but Modernism works, damn it all. It works. And Chris is a master.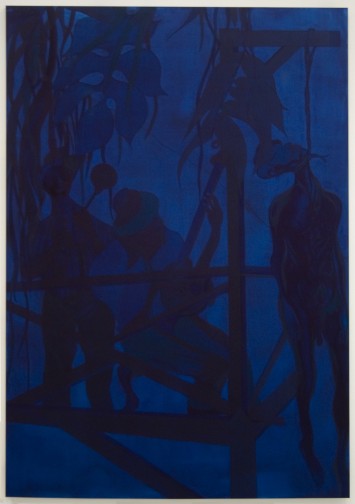 Chris Ofili, Iscariot Blues, 2007, oil on linen, 110 5/8 x 76 3/4 inches
Stephanie and I stood in awe of
Iscariot Blues
, a symphony of indigo, shades barely visible against one another, all of it so dark it wavers in and out of focus, like shadows at night. A guitarist on a porch, then suddenly, out of the gloaming, you see the silhouette of a hanged man, his cock swinging between his legs....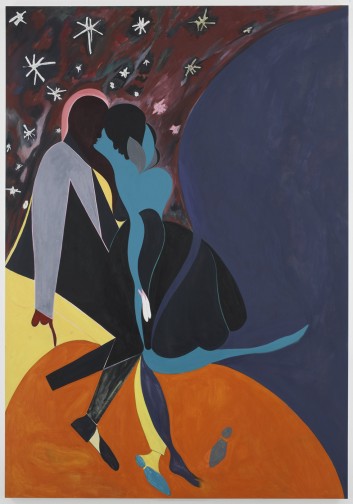 Chris Ofili, Christmas Eve (footsteps), 2007, oil on linen, 110 5/8 x 76 3/4 inches
Or I looked at
Christmas Eve (footsteps)
and watched, amazed, as the woman ducked her head down and then tipped it up to kiss her partner, back and forth, as if Chris could somehow make dried oil paint actually move.
I didn't read the titles while I was there so I missed all the Christian symbolizing going on, but it's unnecessary, because you feel the basis of the stories in the images: A man arises, his erection pulsing. A woman sits tailor-style, her breasts and curves multiplying. A man and woman embrace amidst the cosmos; he presses his manhood against her belly. It's all sex and God and redemption, all wonder and wondrousness, all flowing line and beautiful surface.
Not every piece in the show is a masterpiece, but enough are close enough to make this show one of the absolute best I've ever seen anywhere. After so many nights of mediocre art -- hell, of nights where mediocre art would be a blessing -- it's fantastic to be reminded of why I do this. It's because sometimes you do find the real thing. And it's on display at David Zwirner until November 3, 2007.
Now go!
Still here? Okay, I'll tell you what else I saw.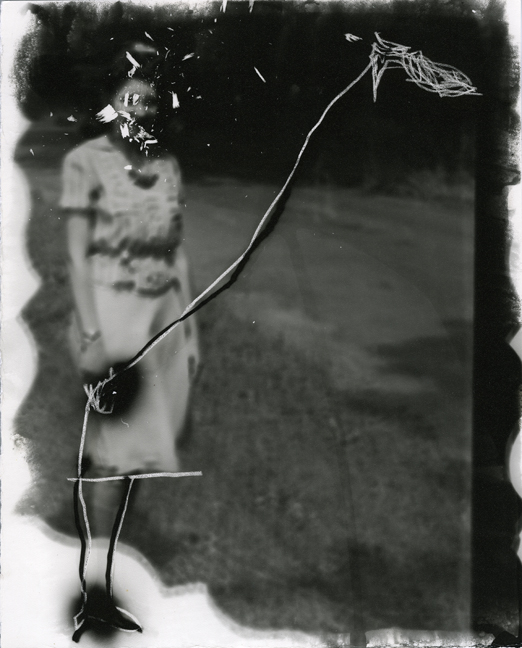 Gerald Slota, Untitled (Shoe Kite), 2005, unique gelatin silver print, 10x8 inches
I met up with
Stephanie
at
Hasted Hunt
, where I was yet again seeing
Gerald Slota
and his latest show. I've
briefly written before
about his show; I can only say it again, pretty much. I want to be really enthusiastic about Gerald's work and say it's great, because I like him, but I honestly have no idea what to think about it. It just slides off my brain. I don't think I have the right background to really appreciate the damaged photos or get any kind of a handle on them. I find them vaguely creepy, mildly disturbing, but not much more. That's about ten times more than I usually get out of a photo, but it's still not much, I'm afraid.
While there Stephanie and I talked with Joe Sabatino, a sculptor who lives near Gerald in Paterson, New Jersey, and a woman he introduced us to but whose name I can't quite remember because I'm an idiot. Katherine? Anyway, Joe and I talked about his work, and about how difficult it is to get a good idea of what it's like from the photos on his Website.
"What medium do you use?" asked Stephanie.
Joe replied, "Pig intestine filled with concrete."
There was a moment of silence while we all tried not to say "Ew."
I promised to drop by Joe's studio some time to see (and smell) his work, and then Stephanie and I were off to our next stop, which I discussed above. On our way there we bumped into Kirsten Magnani and Marcos Chin, which was pretty great. Of course I realized that, if even I knew people who were going to the Ofili show, then it was going to be mobbed. And sure enough it was. Even Inka Essenhigh was there, although I didn't say hello because every time I do she looks at me like she's afraid I might eat her.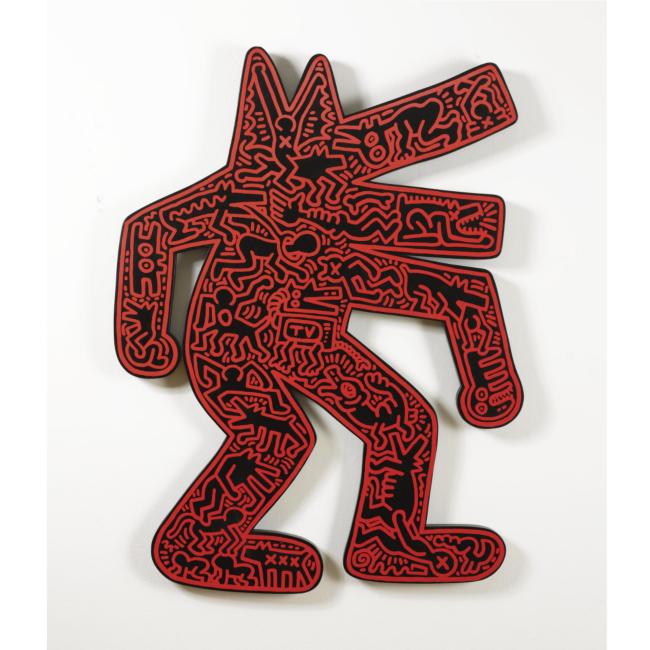 Keith Haring, Dog, Multiple sculpture, screenprint in red on black painted plywood 1986 50-1/8 x 34-1/2 inches
Finally I reluctantly left Zwirner with Stephanie and we wandered over, heading for
PPOW
, but pausing in between to check out what I decided should be called the Dead Pop Show at
DJT Fine Art
: Andy Warhol, Keith Haring, and Jean-Michel Basquiat. Stephanie had never seen a Basquiat in person, so she finally discovered what I'd known, which is that it's Pop, meaning it reproduces perfectly, which is pretty much the problem. But I find Keith Haring entirely irresistable -- his work is just so relentlessly positive, so unstoppably happy, so infectious, I can't help but like it.
Marlene Dumas, KLAUS KINSKI MEETS ENSOR, ANDY WARHOL MEETS HIS MAKER, 2002, watercolor on paper, 18.11x18.11 inches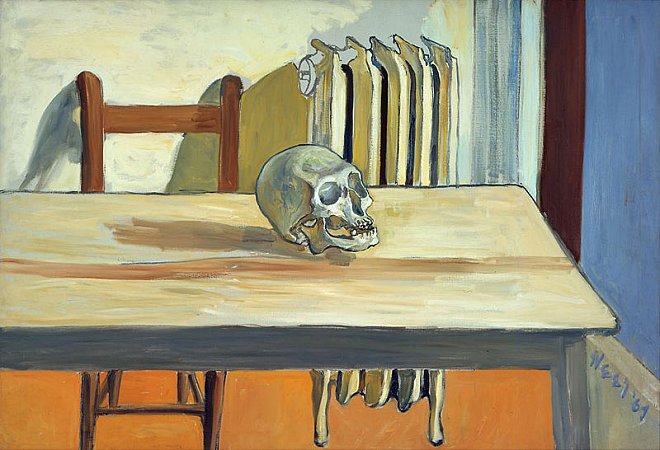 Alice Neel, NATURA MORTE, 1964-65, Oil on canvas, 31 x 45 inches
We also got sidetracked into
Cheim & Read
's show, which was one of those dreadful "high-concept" kind of shows where someone, I guess, needs to clean out some storage space or something. Tonight's theme was the skeleton, so we were treated to everything from a Picasso litho to a Damien Hirst of uncommon, even for him, stupidity involving two plastic drug store skeletons hanging right in the middle of the room where people were trying to walk, talk, drink, and text their friends with messages reading "I M HERE WERE R U". Standouts, though, were
Marlene Dumas
happily decomposing (literally) Andy Warhol and
Alice Neel
just basically being a really good painter.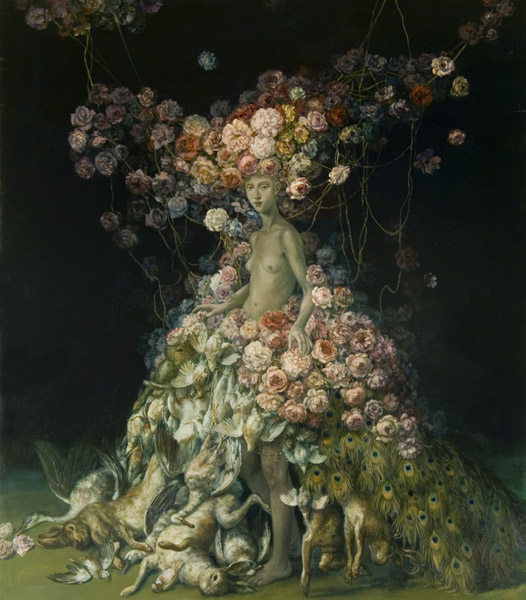 Julie Heffernan, Self Portrait as Not Dead Yet, 2007, oil on canvas, 68 1/2 x 60 inches
At long last we mounted the steep stairs to PPOW to see
Julie Heffernan
's latest show,
Booty
. After walking around a bit I said to Stephanie, "Old Master technique and topless women. So how come I'm not excited?"
"Yeah, what's wrong with you?" she shot back.
But that pretty much summed it up. Two years ago I'd have been blown away by this show, but last night I was just unimpressed. Julie's a good painter, an excellent painter, with technique to spare. But that's all there is. I asked Stephanie if she liked the work.
"I think I do," she allowed, "but I'm not sure I understand it."
What's not to understand? A nauseous, naked Uma Thurman stands half-buried in dead animals. How much clearer can Julie's theme be?
Actually, I think Julie's theme is more obvious than that. I think she's aiming to create ART. Not regular old art, that is, but ART, something a well-to-do person can buy which is very definitely A PAINTING. Whatever else you might say about these, they're certainly PAINTINGS. No question. They're big, they're made of paint, and they don't make sense. They must be ART! No one will walk into your well-appointed home and say, "My kid could paint that!" No one will squint at it with puzzlement and say "You paid how much for this?" No: This is so unequivocally ART everyone will simply accept it and your good taste for buying it.
In other words: This is a couple of paintings from Sears for people who shop on Fifth Avenue.
Well, they can't all be winners. Stephanie and I at least got to stop in to see Daniel Rozin's show (which I raved about last time) and that Chris Ofili show -- did I mention it was great? I think I might've. Those two alone made the trip -- and many more like it -- worthwhile.