I feel betrayed by John Currin. I went to his show, I enjoyed it, I gave it a positive review. I was willing to give John that much, which so many people -- aside, I guess, from high-end gallery directors -- haven't been willing to give him. And then he went and ruined it. Some anonymous person -- I'd like to think it was Currin himself -- commented on my review that they'd found John's source material for a number of the paintings in his show. And it was online Danish porn scanned from magazines from the 1970s. (Amusingly, such images, once fairly mainstream hardcore pornography, are now relegated to the "hairy" niche.)
I spent a while trying to figure out why I felt betrayed by this. Clearly it's not because Currin used photos as a painting reference; I've reviewed painters who lean much more heavily on photos -- Denis Peterson and Mary Henderson -- and not only did I like their work, I absolutely adored it. It's not that he didn't take the photos himself or that he found them online; Mary found all of her photos online and doesn't even personally know the photographers. It's not that Currin was a slave to the photos; just like Denis and Mary, John changed details around and modified compositions as he saw fit.
And yet still I feel betrayed. Almost as betrayed as I did when I found out that Roy Lichtenstein was a thief, fraud, and shameless huckster. He not only borrowed the images of his most famous paintings from the work of better, more accomplished craftsmen, but he copied them almost precisely. I never had a whole lot of respect for Lichtenstein, but learning about this pretty much wiped out the rest.
Clearly what John Currin has done is not in this league. So it took me a little bit of thought to determine what bothered me so much about his copying. And then I realized: It's about intent. It's about depth. It's about soul.
Both Denis and Mary do what they do in an attempt to elevate their subject matter. Denis works with the photographs and tries to empathize with their subjects, to use his painting to somehow change the very fabric of the universe so he can transmit his care and love and attention to the people and places he portrays. He is trying, the way only an artist can, to suspend and rewrite mundane physics to change the world. Mary, meanwhile, is finding the glowing center of being human, energizing and enriching simple, banal, meaningless photographic moments until they are imbued with the power of lives as they are being lived.
Meanwhile John Currin is copying pornography. And not particularly well, either. As one commenter wrote after my review, now that we know he worked from photos, Currin has no excuse for how badly he drew the hand. Or any of the other piss-poor passages.
I don't know if I would mind quite as much if Currin were using the photos as references. We've all done that. I can even point you to a painting of mine online where I used online porn as a guide. But there's a difference between referencing a photo and copying it.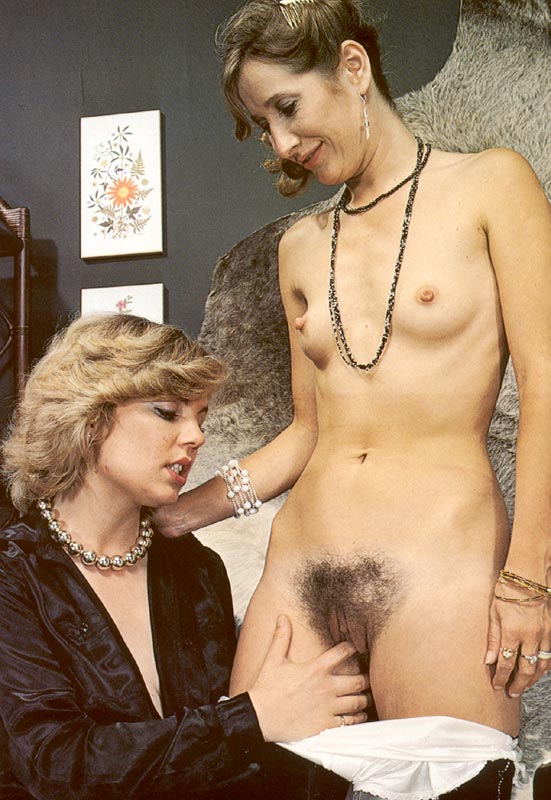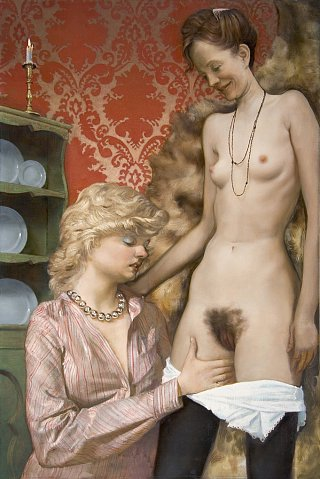 The second one is less obviously a copy because Currin made two copies, one shown here and a second painting, not available online, which is more directly a copy, with the hairy open vulva and all. But you can see he copied over the guy's gold chain, the woman's glove and bracelet, their rather frighteningly organic tongues. You can see he shifted the guy's hand over, too, and really, really badly, like maybe he'd never seen a real human hand before, but heard about them somewhere.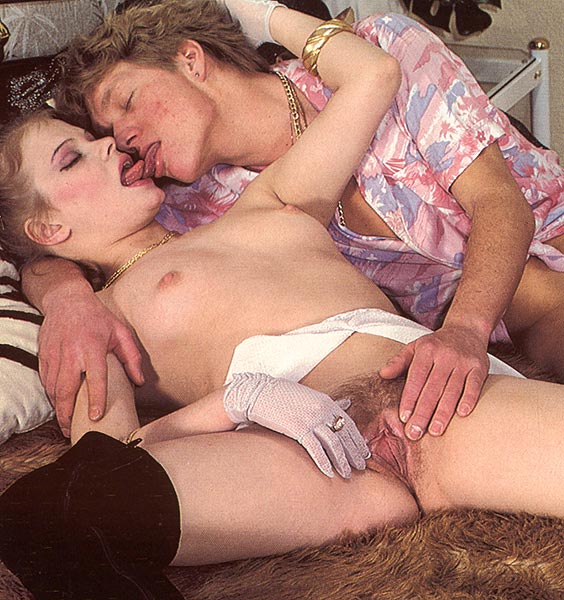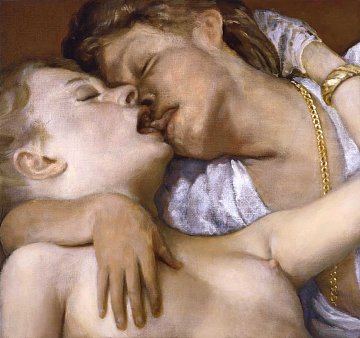 There's also a matter of resources: It seems to me that a painter of the stature of John Currin could have found himself some real models to work from, or had his own photos taken at the very least. Maybe part of the point he's trying to make required that he repurpose ancient pornography -- it's almost as old as I am! -- but, if so, I'd say that's even more asinine and worthless. What point is there worth making about old porn?
Maybe I'm taking this too personally. Maybe I feel invested in Currin's work because I stepped up and wrote positively about it. Maybe it's because, back in the fur behind those two society women, I saw in his swirling brushwork echoes of my own drawing and it scares me to think I could end up like an unfamous John Currin myself. Maybe I'm just jealous that he can get all this attention simply for copying online porn and people like me can't get a break.
Or maybe, ultimately, John Currin really is just a bad painter. And he duped me. Thank you, you anonymous browser of online pornography, for opening my eyes.